The atmosphere of a musical concert is such that it becomes etched into your memory; the palpable excitement, your company for the evening, and the adrenaline rush that comes with getting the lyrics right all contribute to the romanticism of a concert. It builds on your ongoing parasocial relationship with the performer, but what of your favourite artist's suffering?
Justin Bieber cancels his 2022 Justice World Tour. The dates originally ran through March 2023. The pop star was recently diagnosed in June with Ramsay Hunt syndrome, a rare neurological disorder that can cause facial paralysis and hearing loss. The syndrome may cause stiffness on one side of the face based on the branch of the facial nerve affected. It may also be difficult to close one's eye or make facial expressions like smile or frown. Facial paralysis can also cause slurred speech and vertigo.
In a statement posted to his Instagram story, he wrote 'After getting off stage, the exhaustion overtook me and I realized that I need to make my health the priority right now. So I'm going to take a break from touring for the time being.'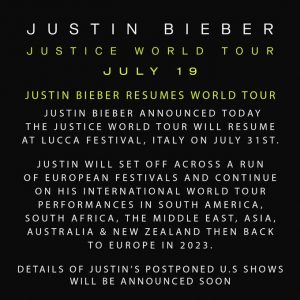 The Peaches singer was set to perform in New Delhi on October 18 in the Asian leg of his tour. However, due to the cancellation, his co-organizer BookMyShow has issued a full refund to all ticket purchasers. Bieber has even called off his shows in Chile, Brazil, South Africa, Argentina, Bahrain, the U.A.E., and Israel. He even had to call off several North American dates in June following his diagnosis. There have been no further mention of rescheduling concert dates.
In July this year, another Canadian pop singer Shawn Mendes cancelled his "Wonder: The World" Tour due to mental health concerns after scheduling to play 87 shows across the US and Europe. He posted a statement on his Instagram saying he felt ready to "dive back in" after two years of inactivity due to the pandemic. However, he said that decision proved to be premature, prompting him to withdraw the remaining tour dates. The tour started on June 27 in Portland. However, Mendes tweeted on July 8 stating he'd be taking a three-week break before cancelling all dates entirely.
— Shawn Mendes (@ShawnMendes) July 27, 2022
While concerts are a significant source of income for artists like Justin Bieber and Shawn Mendes, touring the world with little to no free time can be excruciating. Among others, former boy-band One Direction also had a hard coping with the hectic schedule of touring. Former band member Liam Payne said in a Telegraph interview that he wasn't at his healthiest and that he got into excess drinking because the tour schedule felt neverending. 
The aforementioned celebrities are not the first artists to cancel sold-out tours for the sake of their sanity; they will definitely not be the last. It is not unheard of for celebrity management to burden their clients, trying to make the most of their saturated fame. However, there have been little to no provisions or regulations to prevent this exploitation.