In a devastating turn of events, Choi Sung-bong, a controversial figure in the K-Pop industry, died at his home in Seoul. Authorities suspect suicide as the cause of his untimely demise, marking a tragic end to the turbulent journey of the 33-year-old singer.
Police found Choi dead at his home in the Yeoksam-dong district in southern Seoul at 9:41 a.m. Tuesday, according to South Korea wire service Yonthap, which was the first to report the news.
Choi Sung-bong gained popularity with his appearance on a popular talent show, Korea's Got Talent in 2011, where he captivated audiences with his incredible vocal talent and a life story marked by hardship. Born into a difficult childhood, he overcame adversity and homelessness, capturing the hearts of many with his inspiring journey. The YouTube clip of his performance on the show went viral and was viewed over 21 million times, and he gained international recognition when Justin Beiber shared the clip on his Facebook page.
Despite his initial success and the outpouring of support from fans, controversy and personal struggles plagued his career. Reports of conflicts with management, legal disputes, and mental health issues plagued his path, casting a shadow over his once-promising rise in the K-Pop industry. 
His entertainment career ended, however, when it came out that the singer had allegedly fabricated a cancer diagnosis for monetary purposes in 2021. He claimed to have colorectal cancer, thyroid cancer, and prostate cancer – even forging medical reports. The singer had allegedly collected millions in a crowdfunding campaign.
As investigations continue, authorities are working to piece together the circumstances surrounding his tragic end, aiming to shed light on the factors that may have contributed to his decision. Right before his death, the singer had shared an ominous note to his YouTube channel, adding that he had returned all of the donations he received under false pretenses.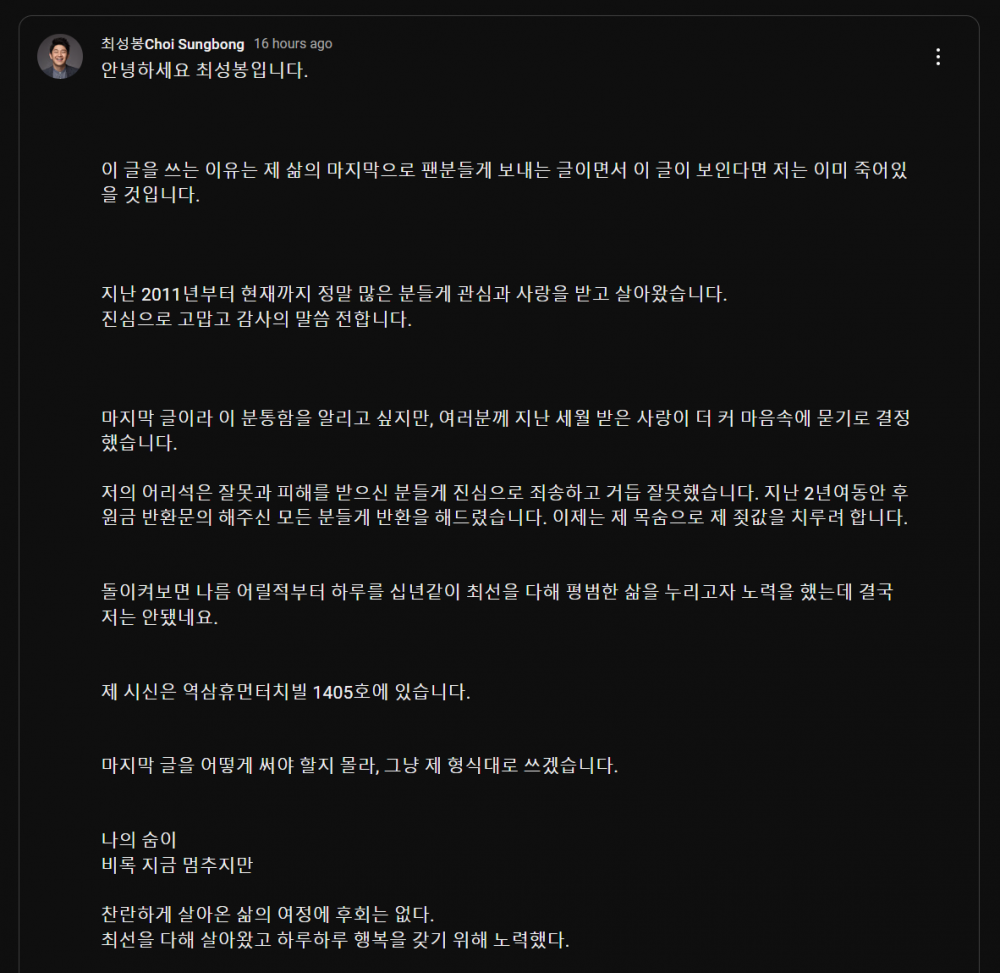 The incident has reignited discussions about mental health in the Korean entertainment industry, highlighting the pressures and challenges faced by artists under the public spotlight. The K-Pop industry, known for its intense competition and demanding schedules, has grappled with the mental well-being of its artists, prompting calls for better support systems and resources. In October 2021, the South Korean government introduced a plan to improve the mental health support available to local celebrities. But the high-profile deaths have continued. Haesoo, a 29-year-old K-pop signer, died by reported suicide just earlier this month and ASTRO singer, Moonbin also passed away in April of this year.