Vikram Bakshi, now a full-time actor, met Ankita Kumar and Rohith Subramanian–the famed duo of Caravan Chronicles– in 2021 for the third season of their van life travelling adventures streamed on Youtube. Vikram, then 30, had joined Ankita and Rohith for a "45-day epic caravan journey across Rajasthan in their pimped-out caravan Zeenat".
Stripped down and lovingly modified, the Ford Traveller emerged as a sight to behold. Inside Zeenat, two beds awaited the weary travellers, providing them with cosy repose. No longer confined by the constraints of conventional travel, the vehicle now boasted essential amenities such as a small kitchen counter, a convenient toilet, and even a running shower.
"To avoid parking hassles, we steered clear of bustling cityscapes in favour of serene countryside vistas, tribal belts and lesser-explored roads. Unless we had some work in the city, we drove along the peripheries so as to soak in the emotion of the state in its truest sense. We wanted to experience the cities, and not just see them," Vikram said.
Sanjna Hangal, founder of Trippy Wheels, a Bangalore-based caravan rental company, said while the demand for caravan travelling has definitely picked up post-pandemic, there is still a lot of awareness that needs to be generated around van tourism.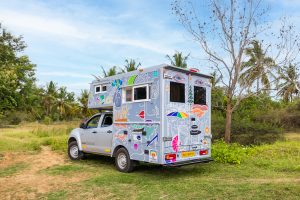 Trippy Wheels rents out modified pick-up trucks with the only exception of a restroom. They are the first in India to convert pick-up trucks into caravans "This model has picked up really well. We decided to do away with the restrooms because India does not have a proper waste disposal infrastructure and we didn't want to add more to the piling waste," Sanjna said, adding that on most weekends, their fleet of caravan are rented out.
She said such a form of travelling is more popular among the 25-45 age group, with more and more families with pets preferring to go for it. "Budget-wise also it makes sense as we rent out caravans for Rs 5,999 to Rs 6,999 per day. All basic daily facilities are available in such vehicles and families seem to enjoy them," she said.
The lack of washrooms in caravans also brings forth the need for mobile toilets across Indian roads and highways, which will in turn make the concept of smaller home-on-wheels a more sustainable choice for travellers.
Sanjna shed light on the arduous process of transforming larger vehicles into mobile homes, emphasizing the myriad of Central government formalities that must be navigated and completed. She explained that undertaking such modifications is neither a simple nor cost-effective endeavour. The intricate procedures involved, including obtaining certification from the Automotive Research Association of India (ARAI), pose significant challenges. Even for smaller vehicles, the certification process is demanding, but the financial burden is comparatively lighter.
"That way, with smaller vehicles, we can provide our customers with budget-friendly rates," Sanjna added.
Even as the market for much larger recreational vehicles in India is present, there aren't many takers– largely due to bureaucratic red-tapes, lack of road infrastructure and parking facilities, other market leaders pointed out.
Amit Naseri, the founder of Wacation on Wheels, said their Nagpur-based company offer larger vehicles with seating capacities of 12, 9, and 7 seats. Astonishingly, their most surprising inquiries come from families who have a member facing a medical emergency.
For nearly two decades, Captain Suresh Sharma and his wife Rajbir have been on an awe-inspiring journey, exploring the world with their self-designed and custom-built caravans. Fondly named 'Kingcobra' and 'Taurus,' these remarkable recreational vehicles (RVs) have accompanied them on over 1,76,000 km of unforgettable adventures with their family and friends. This nomadic lifestyle inspired them to establish Green Dot Expeditions, a pioneering venture that offers van life enthusiasts and adventurous photographers the opportunity to delve into unexplored destinations, experience local cultures, and capture extraordinary moments.
"I can easily say that we are the most caravan-travelled family in India," Capt Suresh said.
At the heart of their expeditions lies 'Taurus', India's first luxury overland truck, also known as a "Mobile Camping" RV, to take serious photographers and adventurers to exotic locales to explore local culture what others don't get to see, freeze and frame their live experiences, offering van life, campervan holidays.
Having journeyed the length and breadth of India in his recreational vehicles, Capt Suresh feels the biggest problem with caravan tourism is how every state RTOs has different rules and regulations.
"For instance, when I had to transit through Punjab, I had to pay Rs 5,000 for 24 hours. In Rajasthan, I'll have to pay for the whole month if I am staying a night. Such rules need to be reformed and everyone needs to be on the same page," he said.
The other issue, Caption Suresh feels, is how Indian infrastructure has no place for RV tourism. "Abroad, there are stores where you can get fittings specifically for your RVs. India does not have that," he said.
He added, "In our region, the concept of a caravan park, which is commonplace in the West, is yet to be established. This presents us with a unique dilemma – should we prioritize the development of caravan camps or focus on increasing the number of caravans available? The key lies in achieving a critical mass of caravans, which would then make the establishment of numerous commercial caravan parks a viable venture."
Unlike in the West, where RV travelling is something people of all age groups have on their bucket lists, Indians are still far behind. The cost factor is a major impediment, coupled with the difficulty in accessing the roads that are still not user-friendly. Unless the RV tourism market booms supported by the demand and authorities' help, India is still looking at years of an amateur industry marred by high cost and low supply.
"In the West, RV tourism boomed like anything during the pandemic period. In India, the only thing that makes me happy right now is how more people are at least aware of RV travelling. It is just that they need to distinguish further between travelling in vanity vans that other business offer in the name of caravan experience, and actual, raw experience of road-tripping," he added.