Any mention of Banksy is enough to excite art connoisseurs, given the theatrics in his displays and realist depictions. This time, a collector got duped into buying a fake Banksy Non-Fungible Token (NFT), for a grand sum of over $335,000. The collector, an ardent Banksy fan, says he knew right from when the money was accepted, that something is fishy. Quite amusingly, the collector calls himself online as Pranksy. He is known to be an NFT collector, with an NFT collection of the NBA Top Shots.
"An Elaborate Scam", Says Pranksy
Pranksy was eager to have the famous artist's first-ever NFT, after the piece was auctioned through Banksy's website. The image, titled 'Great Redistribution of the Climate Change Disaster', shows a man smoking in front of chimneys spewing smoke. The auction ended a lot before the scheduled end, throwing off our Banksy fan. The page where the NFT was displayed, does not exist anymore on Banksy's official site. Pranksy began to have a feeling that he was now victim of "an elaborate scam".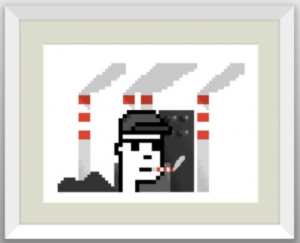 After the news broke and also being tracked down personally by Pranksy, the hacker returned all of the money. Save for £5000, Pranksy says he's lucky to have received the money back, citing how many others do not. Banksy's team later told the media that any NFT auctions bearing the artist's name are not affiliated with the artist in any way. The team also says that Banksy is yet to create any NFTs.
Sale of NFTs has been gaining momentum since the pandemic. These tokens create digital certificates of ownership, rather than giving actual possession of the piece. Pranksy paid the hacker in Ethereum. The sum he offered is 90% more than what others were offering, and likely led the auction to end quickly.
Banksy's art is quite lucrative because of his depiction of pressing issues, often directed at politics. His works have been spotted in places like the London Underground, under bridges, and random walls. Often, authorities have removed his work, and sometimes for them to be sold by auctioneers. Banksy's automatic shredding of his piece called 'Girl with Balloon' at an auction after its sale, remains as his most memorable work.