After going crowdless in 2021 abiding by the covid safety protocols, this Awards season restores the Grammy's original splendor. Despite being less chaotic than the Oscars, the Grammys 2022 were good to Indian artists. Here are some of the most noteworthy moments from Grammys:
Two wins for India
Ricky Kej, alongside Stewart Copeland of 'The Police' fame, won his second Grammy for Best New Age Album for Divine Tides. Indian-American singer-songwriter Falguni Shah won a trophy for Best Children's Music Album for A Colorful World. Shah had even collaborated with AR Rahman for Slumdog Millionaire. Despite being based in New York, she was trained in Mumbai under the legendary sarangi players and vocalist Ustad Sultan Khan.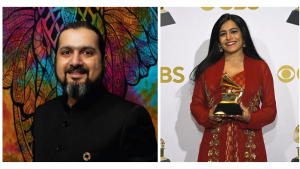 2. The Weeknd's win
The Weeknd had publicly boycotted the music awards last year and vowed to never submit his music for consideration again. He called the event corrupt for its secret voting committees following the snub of his critically acclaimed 2020 R&B album After Hours. However, the singer won a Grammy for Best Melodic Rap Performance for his vocals on "Hurricane" off Kanye "Ye" West's latest studio album, Donda. 
3. Major artists skip this year's event
Along with The Weeknd, Taylor Swift, whose latest Folk-pop album Evermore received a nomination, major pop artists like Drake, Cardi B, Ariana Grande, Adele, Selena Gomez and Lana Del Rey seemed to skip the Grammys this year for reasons unknown. 
Kanye West, on the other hand, was barred from performing despite five nominations. Kanye's recent behaviour online has been "concerning", with the Recording Academy not wanting to attract bad press.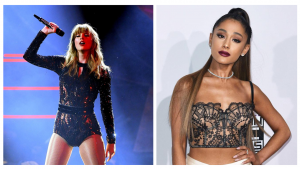 4. Grammys invites Louis CK and James Charles 
The internet was angered by Louis CK's win, despite the latter admitting to several counts of sexual misconduct. Not only that, but the comedian also received Best Comedy Album for Sincerely Louis C.K.
Beauty guru James Charles was also seen on the red carpet despite multiple allegations of sexual misconduct with minors.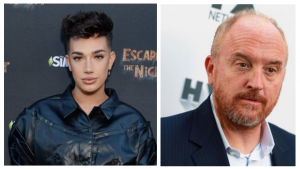 5. Volodymyr Zelenskyy's Ukrainian tribute
The President of Ukraine skipped Amy Schumer's Oscars request and appeared virtually at the Grammys, asking viewers to support Ukraine in any way they can. John Legend followed the speech with his new song, Free. Legend performed with two Ukrainian artists, singer Mika Newtown and poet Lyuba Yakimchuk.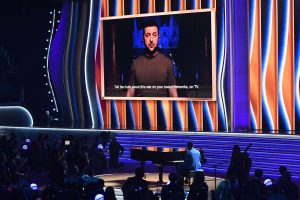 6. Jon Batiste takes home five awards
Jazz pianist, bandleader, and composer Jon Batiste received nominations for 11 different Grammy categories. He won Album of the Year for his 2021 album We Are, making him the first Black artist to win the award since Herbie Hancock in 2008. Batiste took home four other awards for Best American roots performance, Best American roots song, Best score soundtrack for visual media, and Best music video for Freedom.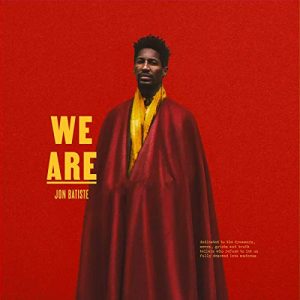 7. Trevor Noah censorship 
Following the Oscar debacle, Comedian and Late Night Show host Trevor Noah seemed to have gone easy this year. Addressing the incident in his monologue, Noah said, "We're going to be dancing, we're going to be singing, we're going to be keeping people's names out of our mouths". However, he seemed to keep his jokes on the down-low for the most part.
8. Foo-fighters tribute 
The "In Memoriam" section had organized a touching tribute to Foo Fighters' drummer Taylor Hawkins who died later last month. With 15 Grammy Awards, the Foo Fighters (with members from the grunge band Nirvana), more than any other American band to date. This year, the band won three awards — Best rock album for Medicine at Midnight, Best rock performance for the song Making A Fire, and Best rock song for Waiting On A War. Billie Eilish even performed "Happier Than Ever" while wearing a T-shirt with Hawkins' face on it.