Ye may have lost all his brand partnerships, but his fans are not so quick to jump ship. Over the past few weeks, several big names like Gap, Adidas and Balenciaga have severed ties with the rapper, who was formely known as Kanye West. After Forbes reported that he is no longer a billionaire, some dedicated fans sought to remedy that with fundraisers. They set up campaigns on popular fundraising platform GoFundMe. One of them read 'Make Kanye West A Billionaire Again'. Only five dollars later, it was taken down. However, another enthusiastic campaign titled 'Make YEE AH BILLIONAIRE AGAIN' is still live.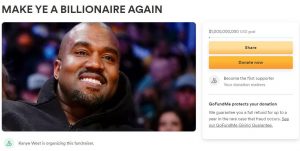 Ye's antisemitic comments, 'White Lives Matter' t-shirts and remarks about the death of George Floyd are just some of the controversies he's found himself in off late.
This is not the first fan-led effort to fix Ye's failing finances. In 2016, a certain Jeremy Piatt organized a campaign to 'Get Kanye Out of Debt'. The rapper had revealed he was $53 million in debt at the time. According to an update Piatt posted later, Ye's team declined the whopping $57,398 he raised. So instead, Piatt donated it to a non-profit organisation called Notes for Notes that builds after-school recording studios and encourages careers in the music industry. This time around, it seems that either the organizers or moderators are removing most campaigns after a meagre collection.
Moreover, it seems not everyone is seeing sense in restoring Ye's billionaire status. People are now setting up fundraisers to make themselves billionaires instead of him. "All in all, Kanye sucks, and I don't suck nearly as much, so give me your money instead of giving your money to him." Grant Steerzer's campaign reads. He has raised $6 so far – already more than what the platform allowed Ye's fans to collect! GoFundMe is currently filling up with several other such fundraisers.
It's best to laugh off entire episode, so that we don't have to lock eyes with its implications. Can any good come out of wanting a powerful, anti-semitic man to become richer, no matter how much we love his music?