The biggest night in American fashion, the Met Gala took place hours ago in New York City. The annual, invitation only-event to raise money for the Metropolitan Museum of Art's Costume Institute is arguably the most anticipated evening for fashion enthusiasts as they eagerly wait to see how the attendees – spanning the industries of fashion, film, music, theatre and more – will interpret the year's theme. 
The gala has been crucial to pop culture and anyone who's familiar with it knows that nailing the perfect look will set the tone for you for the coming year. The 2023 theme was a tribute to the legendary designer Karl Lagerfeld, creative director of Fendi, Chanel and his own namesake label. He passed away in 2019, aged 85 and had one of the longest and era-defining careers in fashion. The full title of the spring 2023 exhibition theme is 'Karl Lagerfeld: A Line of Beauty'.  Black-and-white, monochromatic pieces were a staple of Lagerfeld's designs and the red carpet was full of some really amazing interpretations of the theme.
Sadly, Blake Lively, arguably the queen of the Met Gala chose to skip the evening this year – but we got some really fabulous looks that lived up to the legacy that Lagerfeld left behind. 
Elle Fanning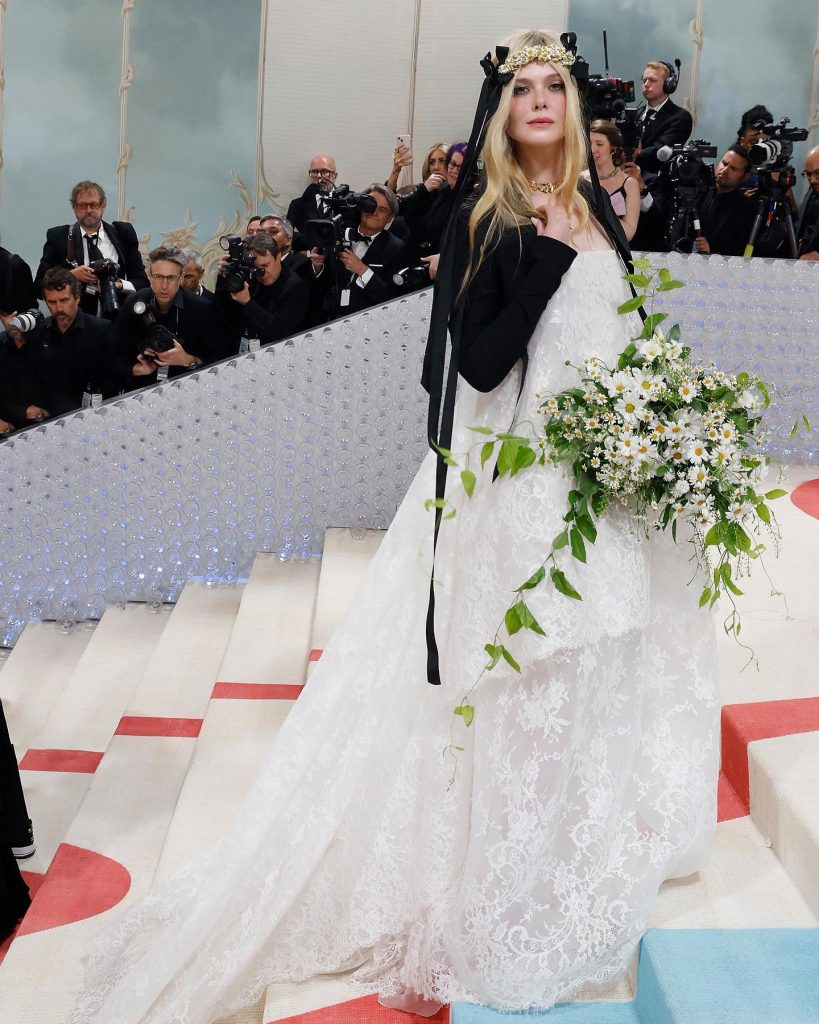 The actress has a history with Lagerfeld that dates back decades, and she paid a wonderful homage to him this evening in a nod to the first time she met him. The Great actress arrived at the carpet in a white lace gown by Andreas Kronthaler for Vivienne Westwood. Her accessories leaned romantic, from a flower crown tied around her head with black ribbons to an overflowing bouquet of daisies she carried in her arms. She finished the look with a cropped black jacket.
Fanning was a child – 13 – when she appeared in his Little Black Jacket exhibition. Recalling the moment in an Instagram post, she wrote, "Everyone that was pictured wore the same black Chanel jacket and although we all wore the same, Karl let our individual styles and personalities inform how the jacket should be worn. For my portrait, he decided to place a daisy crown on my head and put the jacket over the white dress I arrived in."
Sean 'Diddy' Combs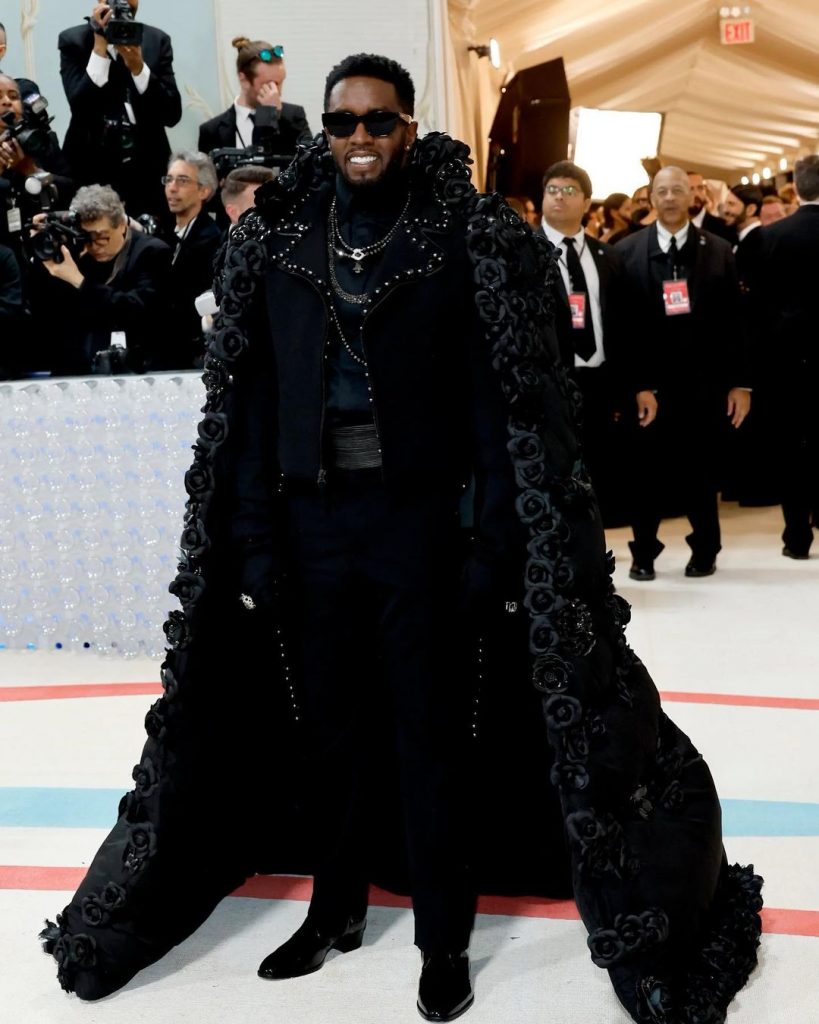 To those unfamiliar with the Grammy-winning singer, his camellia-adorned outfit might come as a (pleasant) surprise, but he actually has a long-running relationship with the world of fashion. The singer graced the carpet in a self-designed look from his label Sean John which he launched in 1998. With the brand, he pioneered the emergence of hip-hop aesthetics and luxury streetwear on the runway. Largely known for its suiting, eyewear, fragrances, loungewear and partnership with Macy's, the brand's Met Gala debut marks Sean Johns's first venture into couture. 
When asked about the significance of attending an event celebrating Lagerfeld, Combs told Vogue, "I had a chance to spend time with Karl when I was designing Sean John, just as a fellow designer. He was so creative and he had such attention to detail (and) to beauty." Before walking the carpet on Monday evening, Combs shared on Instagram that he was thinking of "the great André Leon Talley" for the evening, making the Sean John cape a homage not just to Lagerfeld, but also to Talley's love for oversized, voluminous cloaks.
Salma Hayek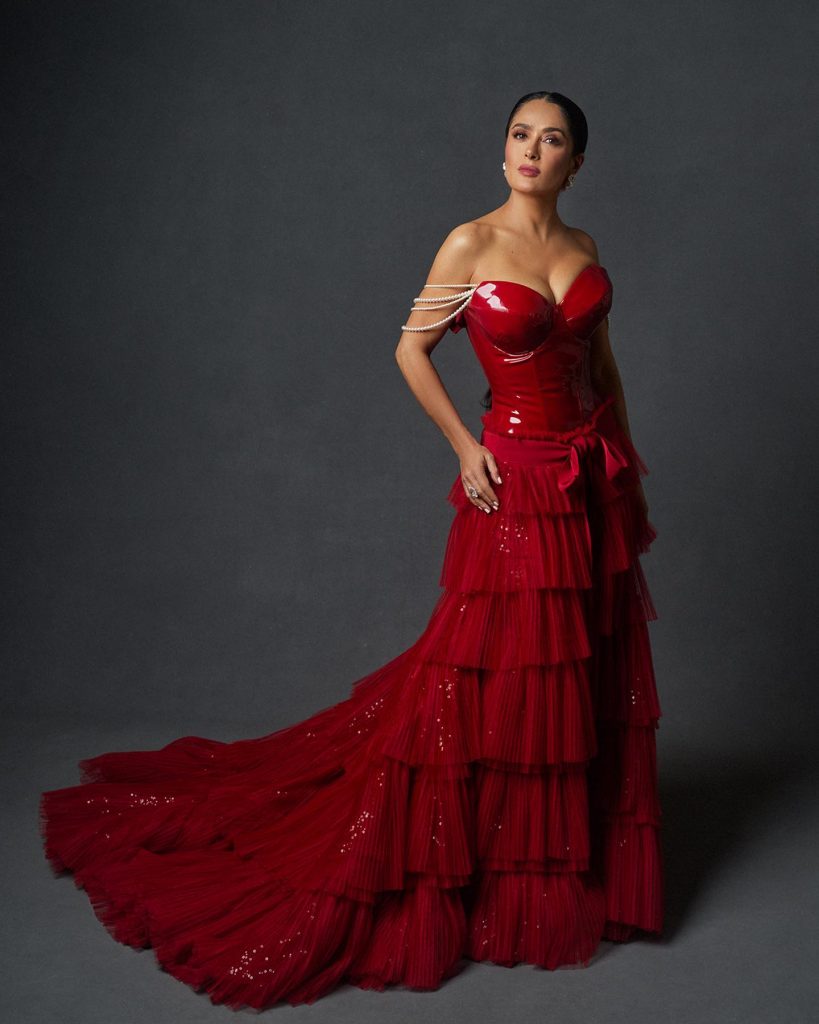 Salma Hayek showed up to the Gala in the most seductive and bold red dress. The Mexican actress dazzled as she walked down the steps in Gucci, with a leather corset, pearl straps sleeves and a large skirt of ruffles and tulle with a long cauda, fitted at the waist with a bow. She finished her look with a matte, brick-red lip and a subtle smokey eye, both courtesy of Charlotte Tillbury, and a waist-length ponytail embellished with rosettes. Showing off her incredible look on Instagram, she wrote, "For you Karl,". She was one of Lagerfeld's known friends in the industry. Hayek made her Met Gala debut way back in 1997, and she has rarely failed to steal the spotlight with her bold looks.
Kristen Stewart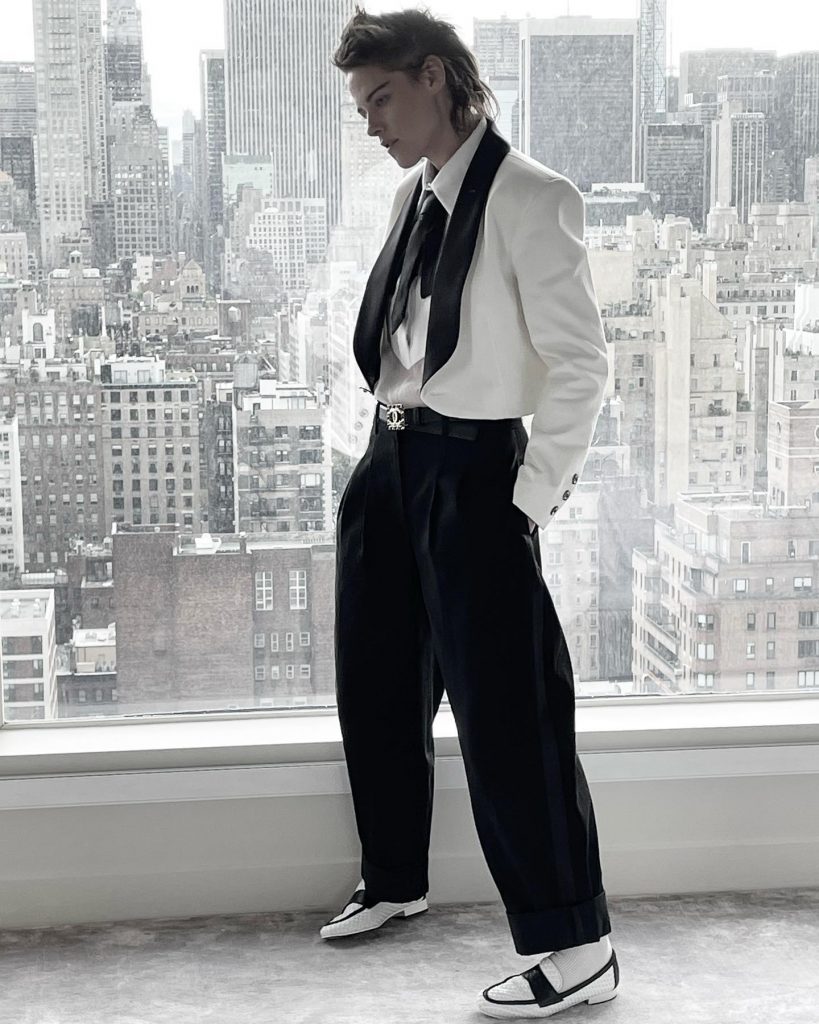 Kristen Stewart served queer-punk realness at this year's Gala, in a Chanel Resort 2017 with chopped hair and minimal make-up. Longtime Chanel ambassador, Stewart shared a close friendship with Lagerfeld for more than a decade. In a Vanity Fair profile, not long after Lagerfeld's death – Stewart described him as "incredibly inviting and shockingly unpretentious" who was true to himself. The actress, although largely known for her role in Twilight, has started embracing a bolder style over the last few years.
Bad Bunny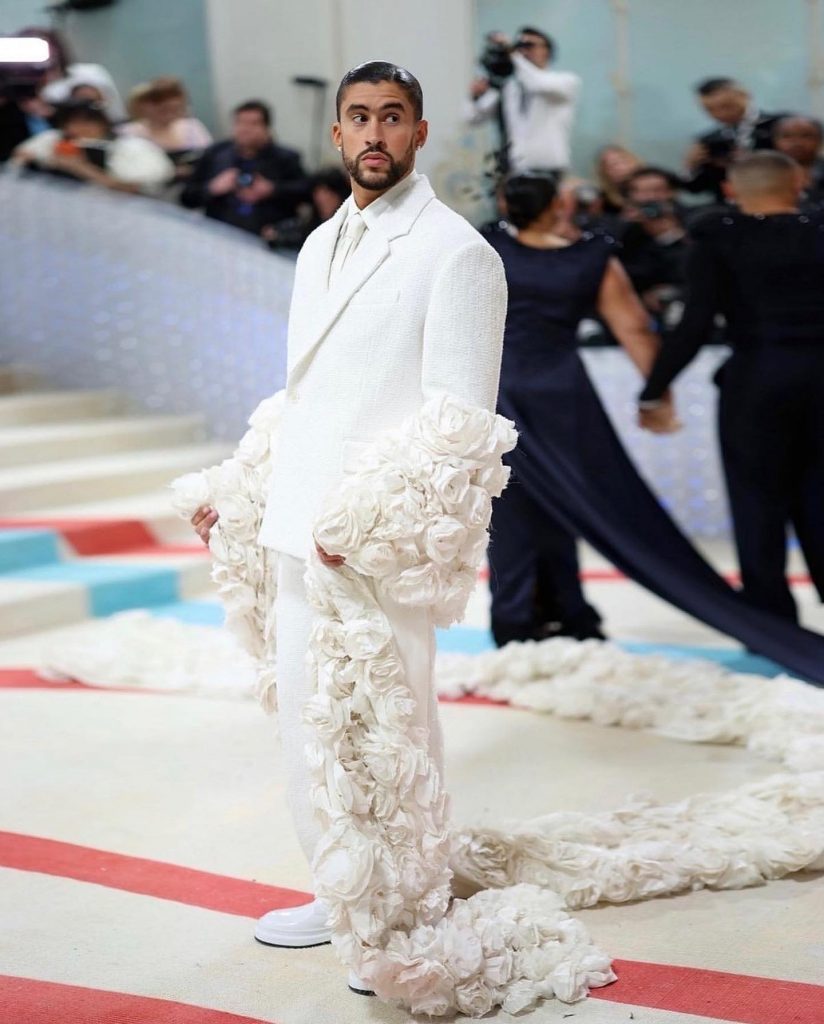 Met Gala is one of the rare moments in fashion where men get to actually experiment with their looks instead of the usual black tux. This year's gala also saw some incredible men's looks, but Bad Bunny stole most of our attention with his monochrome backless tweed suit from Jaquemus. The look also included a matching rosette cape, accessorising with pearl stud earrings, a silver chain necklace and slicked-back hair. The world's most streamed artist has had some major fashion moments as of late and this is definitely one of his best.
Jessica Chastain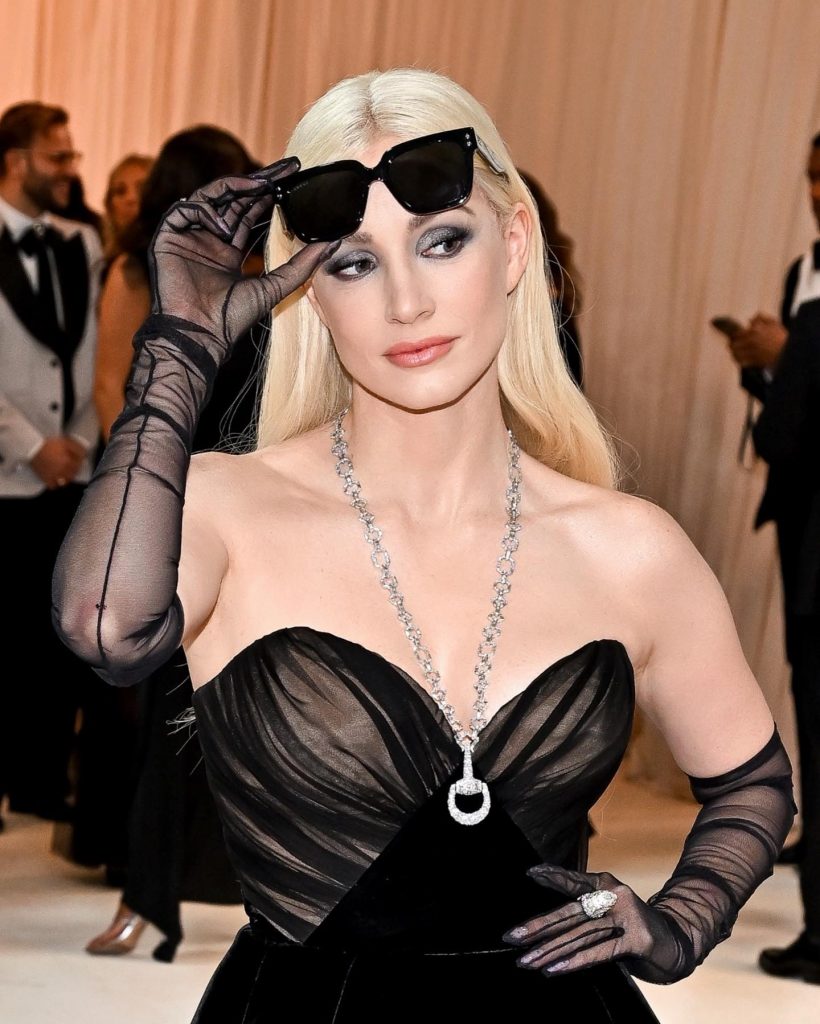 Jessica Chastain gave her all to channel the iconic designer on this year's carpet and she totally succeeded. The actress traded her trademark red hair for a shocking icy-blonde, slicked-back hair similar to Lagerfeld styled his. She went with a custom Gucci strapless black gown covered in tulle — including a long black tulle train with a layered bottom.
She accessorized her look with matching black tulle gloves that rose to slightly above her elbows, a long silver and diamond chain necklace and chunky black sunglasses– a look very reminiscent of Lagerfeld's personal style.
Brian Tyree Henry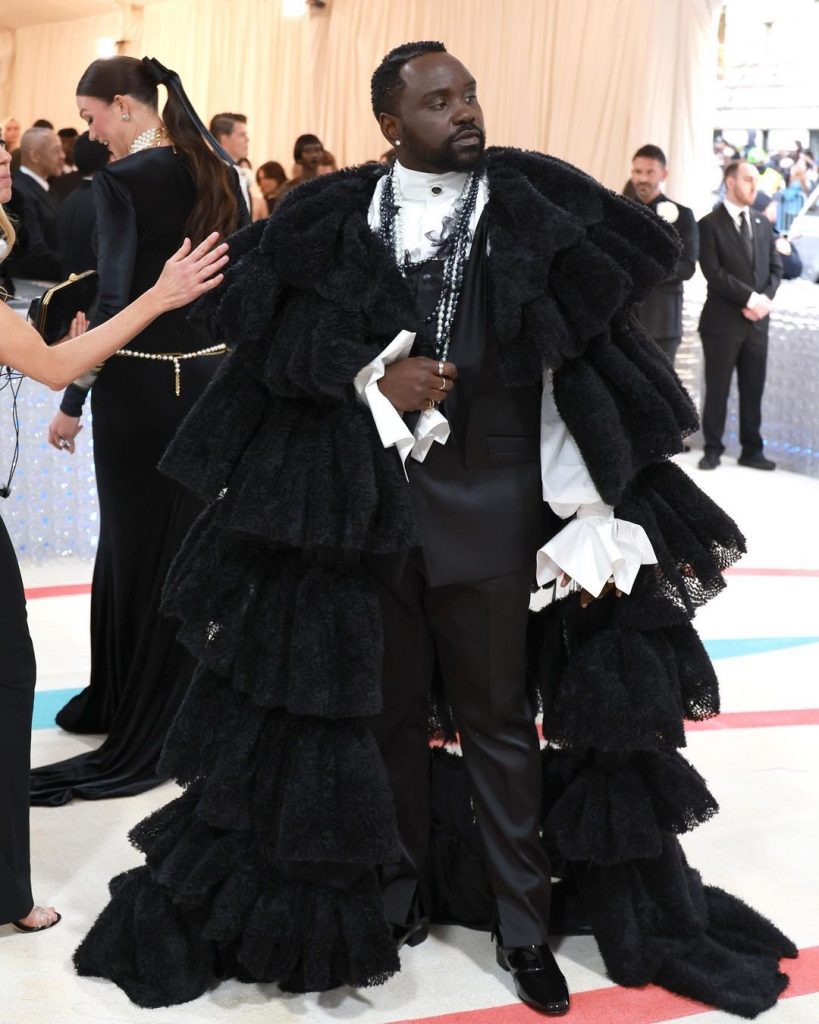 If there was a menswear competition at this year's gala, then the 'Bullet Train' star officially won it. The actor seemed to be executing his own version of Lagerfeld in this menswear creation by the late designer. It's flamboyant, fabulous, and dramatic in exactly the way he liked it and exactly the manner the Met Gala calls for.
Alia Bhatt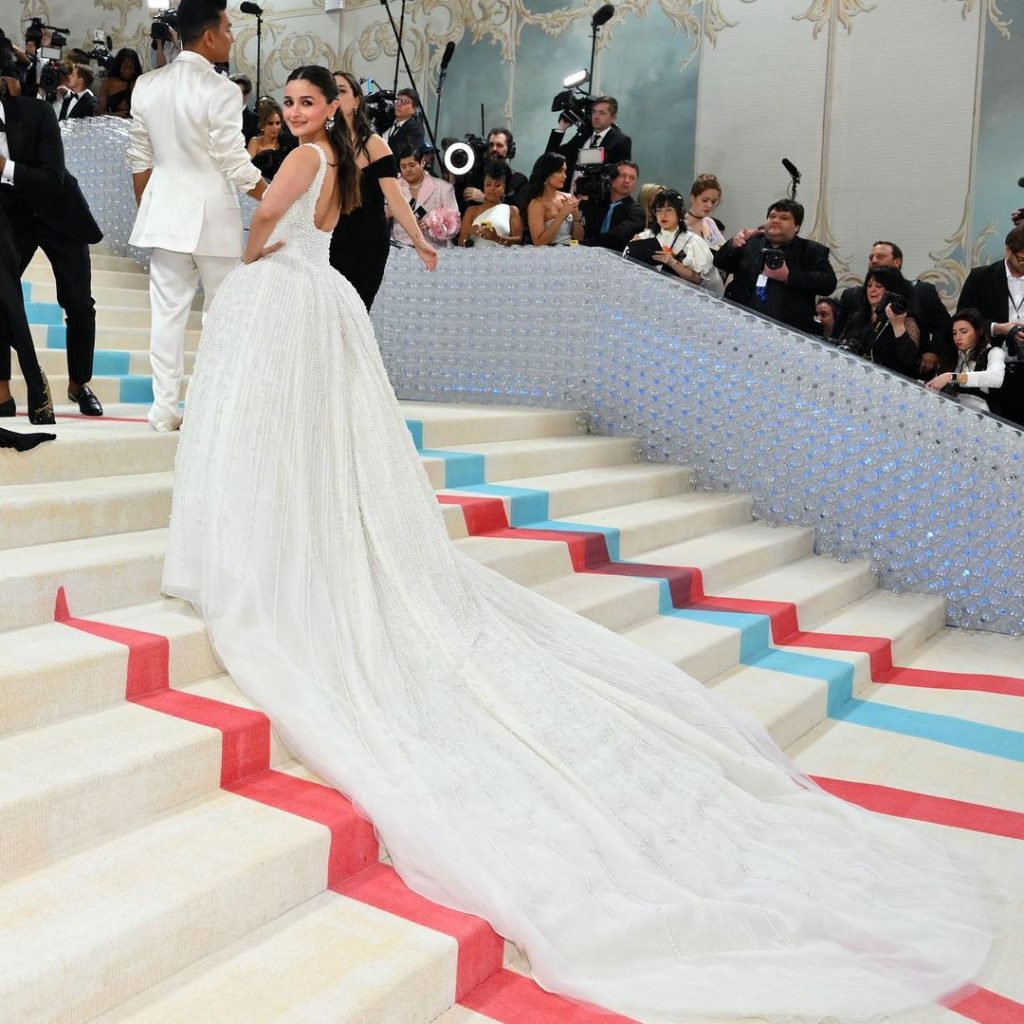 The actress made a stunning Met Gala debut in a 'pearly' gown by Nepalese-American designer Prabal Gurung. She wore a single fingerless glove, which was one of Lagerfeld's favourite accessories. She took to Instagram, revealing that she has always been fascinated with Chanel's iconic brides– and the look was particularly inspired by supermodel Claudia Schiffer's 1992 Chanel bridal look.
Anne Hathaway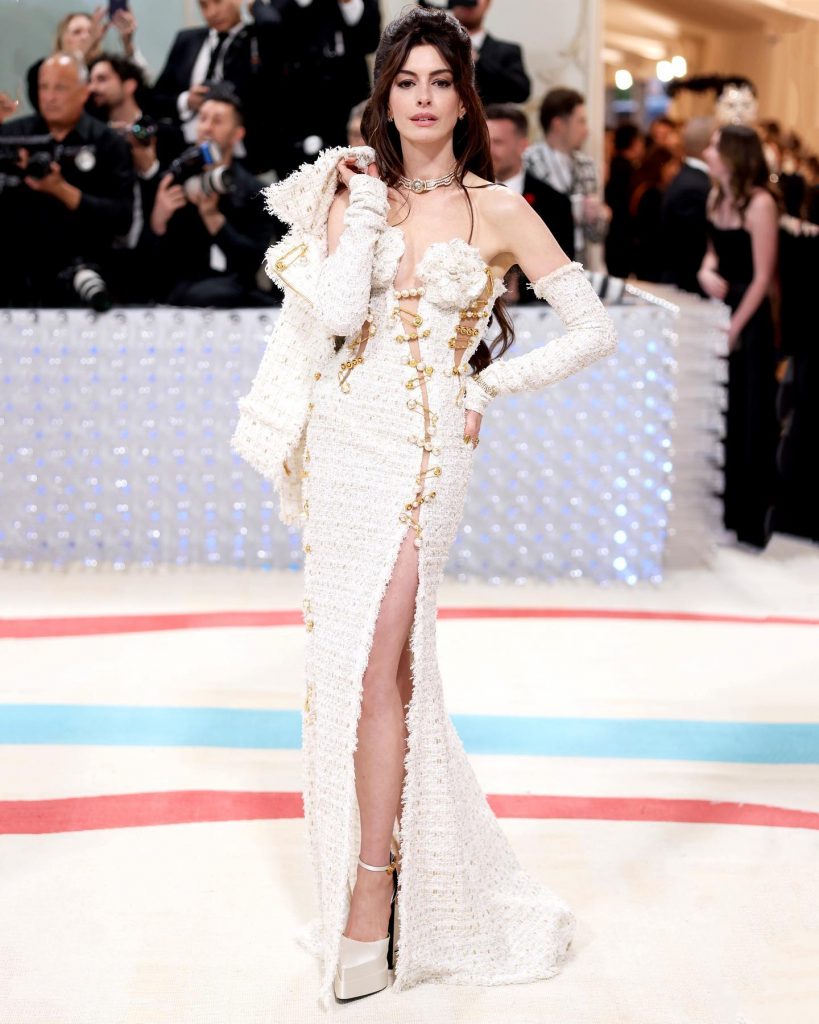 Anne Hathaway, as usual, proved that she is still the It-girl of Hollywood with a sophisticated and sexy look. The Devil Wears Prada star looked breathtaking in a strapless safety pin dress by Versace, designed by Lagerfeld with white tweed, pearl accents, and camellia flower details. "It was meant to be a marriage between Versace and Chanel," Hathaway, who is the new face of the Italian fashion house, said in a Vogue livestream. A pair of fingerless gloves, platform heels, and Bulgari jewels completed her look.