Even as Andrew Tate counts his days under house arrest, the scent of misogyny he left behind persists. Recently, Twitter has seen a string of misogynists take centre stage, and while they've received their fair share of criticism — there's an alarmingly high number of people in favour of them.
Over the weekend, Sarah Brady, a surf instructor shared a series of screenshots on her Instagram Stories over the weekend, showing text message exchanges between herself and ex-boyfriend Jonah Hill — an actor known for films like Superbad and 21 Jump Street — which have since gone viral on social media. In the screenshots, Hill bashed Brady for posting surfing pictures in bikinis and went on to list his "boundaries for a romantic partnership", which included cutting off contact with her friends that he did not approve of and forbidding her from surfing with men.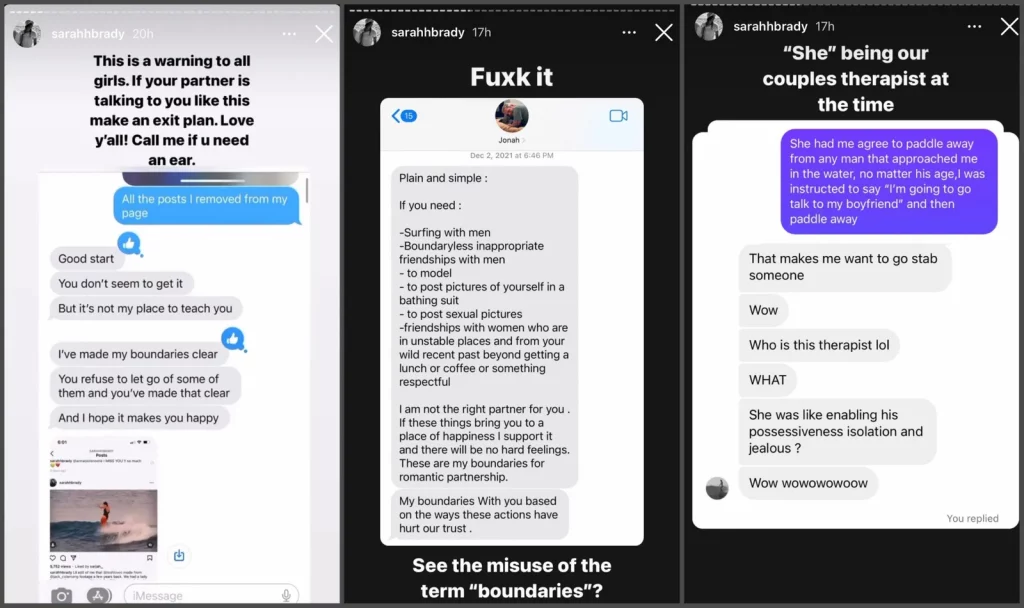 Hill and Brady dated in 2021, with Hill confirming their romance in October. It is unclear when they split up, but Hill is currently dating Olivia Millar, the co-owner of an online vintage shop called Chasseresse with whom he recently welcomed their first child.
The screenshots have since taken over Twitter, and people have polarizing views. Most of the internet is furious with Hill over his "misogynist views", but on the other hand, some think that setting such expectations with a partner is normal. Misogynist influencer Andrew Tate retweeted a post by Candace Owens defending Jonah Hill's leaked texts. Owens' tweet claimed that there was nothing wrong with Hill's expectations of a partner and criticized women in society today. Tate's endorsement of Hill's behaviour came as no surprise, given his track record of provocative statements on social media. Owens is also a well-known conservative commentator and an avid supporter of former US president Donald Trump.
Hill has been open about being a feminist and recently garnered immense praise for opening up about his mental health. In his Netflix documentary Stutz, he engaged in candid conversations about mental health with his long-time therapist Phil Stutz, sharing tools to "cope with struggles".
Many people have bashed Hill for allegedly misusing 'therapy-speak' to manipulate Brady, and it has inspired discourse about men's desire to control what women wear. 
Jonah Hill is a great example of that old saying, give a man some therapy, and you heal him for a day; teach a man therapy words and you feed his manipulation for a lifetime.

— Marcella Arguello (@marcellacomedy) July 9, 2023
Just last week, a similar incident unfolded over social media – actress Keke Palmer's Darius Jackson, drew internet scorn after he publicly criticized Palmer, with whom he has a child, for wearing an outfit he deemed too revealing to an Usher performance, leading to angered Twitter users to accuse Jackson of sexism and criticize him for taking his concerns to social media.
Without responding directly to the controversy, Palmer posted a series of pictures to her Instagram Wednesday night highlighting her outfit, praising Usher for his performance in the caption and stating that she wished she had taken more pictures.
Throughout both incidents, users on social media were especially invested and did not hold back their personal opinions about a situation that they only saw glimpses of. Thanks to social media, the lines between personal and public have blurred. There has been an incredible rise in parasocial relationships with celebrities, and minors are usually the most directly affected by the unhealthy attachments that come from these relationships.
Since then, though, many believe that the entire ordeal unfolded too publicly, leading many to wonder whether we have normalized social media in our lives too much. Being chronically online can make you vulnerable to cyber-bullying and doxxing, and it's easier for other people's opinions to distort our personal beliefs. At best, it helps to expose the problematic behaviour of people in power, but at its worst – it can put innocent people in the line of fire.