She arrives alone, dressed in a white t-shirt and a dungaree dress perfect for the sultrier day that's ahead of us. It's the month of May, and we're shooting in a Portuguese house located in a small town called Quepem in South Goa. Quietly, she gasps at the beauty of the location as she walks through the garden with me towards the main door. She appears casual and at ease, presumably relieved that a much quieter production awaits her.
We're shooting a fashion editorial that depicts the evolution of craftsmanship and textile in fashion, a contemporary take on our central theme. She walks in the library that we have turned into a dressing room for the day and joyfully asks what she's 'supposed' to wear? We have plethora options for her to choose from with an assumption of how her own artistry will enhance the messaging we've aiming to imbibe. From debuting with a character of a prostitute in a modern-day Devdas (Dev-D) to playing a rebellious young girl with cerebral palsy (Margarita with a Straw) and other very relatable characters (Yeh Jawaani Hai Deewani) — to name a few, Kalki has by far done it all though she claims she's yet to explore and experiment a lot more. She adds, "sometimes as an actor it's just going out and doing what you haven't tried yet and taking up something that gives a kick in the gut".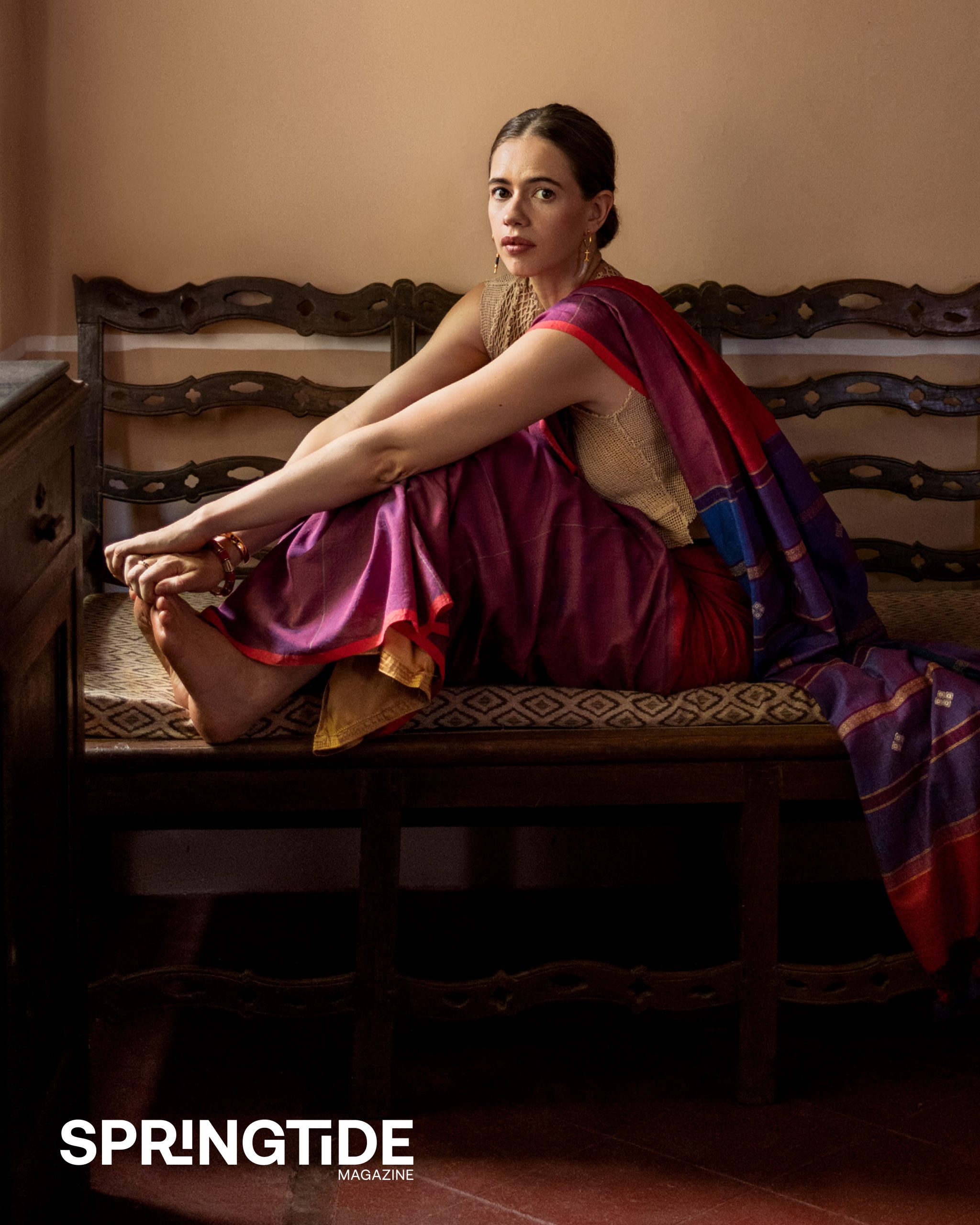 Kalki is now practising Tamil on her laptop while the makeup artist prepares for the desired mood. She's getting ready for her role as a lawyer in a South Indian movie. "It's been almost 15 years since I lost touch with Tamil, and it's challenging to reconnect with it now," she sighs, sharing the frustration I understand as someone who recently started Tamil classes. She recounts more escapades related to the language, recalling her early days growing up in Auroville and Nilgiris. "Often, boys would approach me offering drugs or flirting because I was white," she exclaims. "But when I answered them in Tamil, I immediately became their Akka (sister)," she adds, laughing. "Sometimes I really wanted to yell, 'I'm from Periyamudaliyar Chavadi, man!", she added. It's both hilarious and comforting to witness her rawness; she has no interest in glamorising everyday realities. "When I moved to the UK for university and people around me discussed LGBTQ+ issues and such, I couldn't understand the references," she exclaims. "Back then, we didn't have those discussions here. I truly felt displaced, considering I had never travelled abroad before, but was still considered one of them", she stated how such experiences made her feel more displaced than back home that only revolved around the colour of her skin.
While her makeup is being applied, we take advantage of the time to conduct our video interview. The questions revolve around her when she was a 20-year-old and her life now. Kalki shows no interest in previewing the questions before the camera starts rolling. Throughout the day, her demeanour oscillates between humour and introspection, setting a pattern where each question I ask elicits an immediate reaction accompanied by our laughter, except for two instances. One is when she passionately discusses Joan of Arc's remarkable achievements in her short life, and the other is when she reflects on the deepening division caused by religious values and differences, which prominently started to take root during her 20s.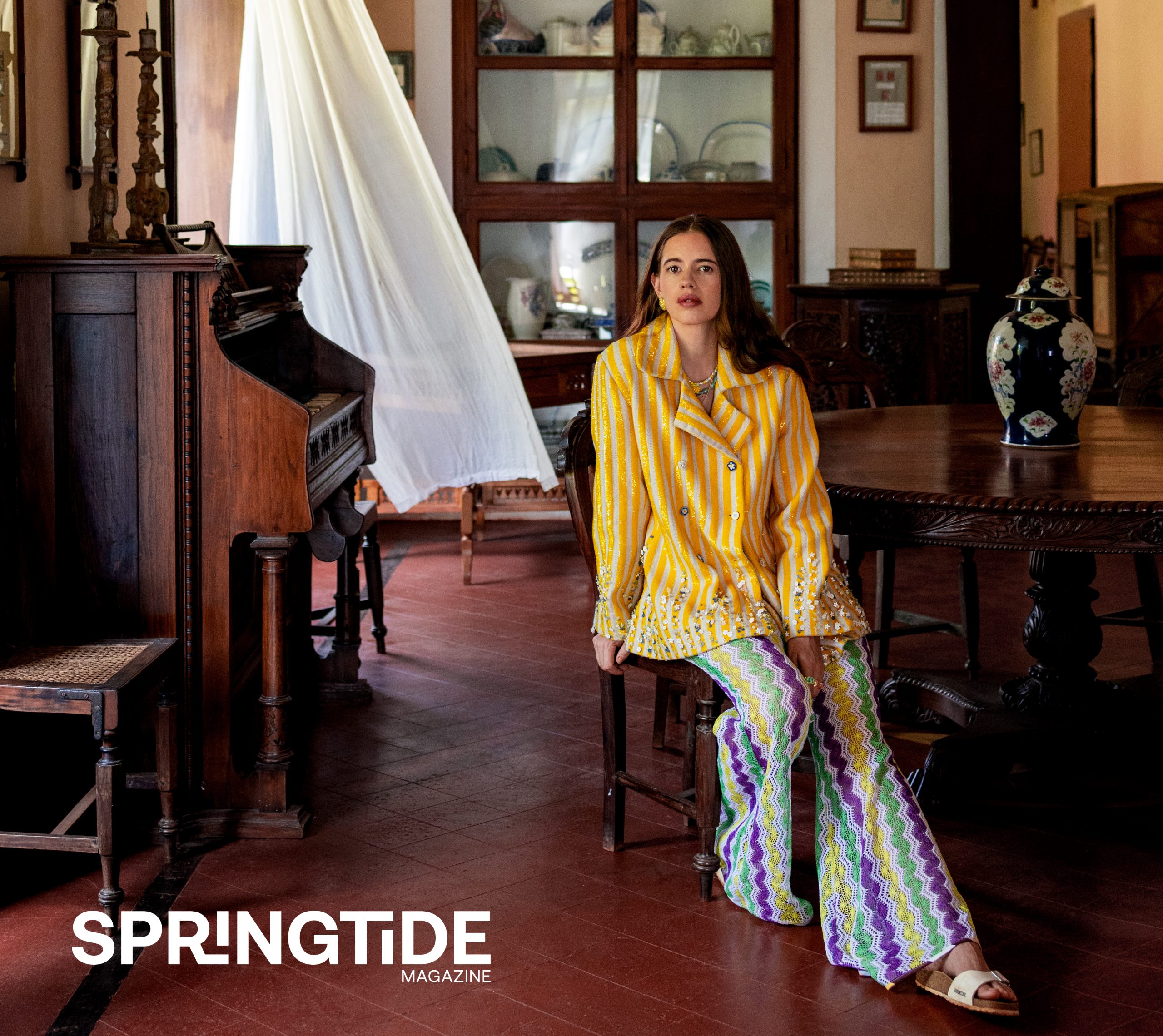 This wasn't our first interaction. In fact, our previous conversation was the reason I knew she would be perfect for our theme. I reminded her of our encounter over a decade ago when she visited my college to promote her movie "My Friend Pinto". She quipped, "So, was it the vodka-injected watermelon story that made me ideal for this cover?" Indeed, it did. I was 16 at the time, and she embodied coolness to me. Now, she is not only an acclaimed actor but also an author who explores uncharted notions of motherhood and advocates for the environment. It was clear from our conversations that day that she embraces learning through trial and error. Laughing, she commented on my recent thoughts about Ryan Holiday's view on reading as a way to avoid learning through trial and error. She confessed, "I didn't read much in my 20s, mostly only during university and then picked it up in my early 30s. I guess I was preoccupied with breaking hearts and getting my own heart broken during those years." I quickly agreed, recognizing that the world-shattering heartbreak of one's 20s is almost a necessary part of growth, regardless of how many books one reads. While he was speaking in the context of war I assume, Kalki wittily declared "Mr Holiday is not as wise as he seems" and I gleefully confided.
An author herself, the question constantly lingered in my head throughout this conversation: What inspired her to pen down things in her recent book "Elephant in the Womb" if she strongly believed in learning through real-life experiences? Before I could complete my question, she answered, "Pregnancy." Initially, I was unsure, but then I understood her meaning. She elaborated, "I couldn't comprehend why all the books I received were solely medically informative, focusing on diet issues and such, but none discussed the emotional impact and the mental space one occupies while carrying another life inside." She briefly exemplified how not attending a protest during her pregnancy showcased the overwhelming responsibility of nurturing another person within oneself.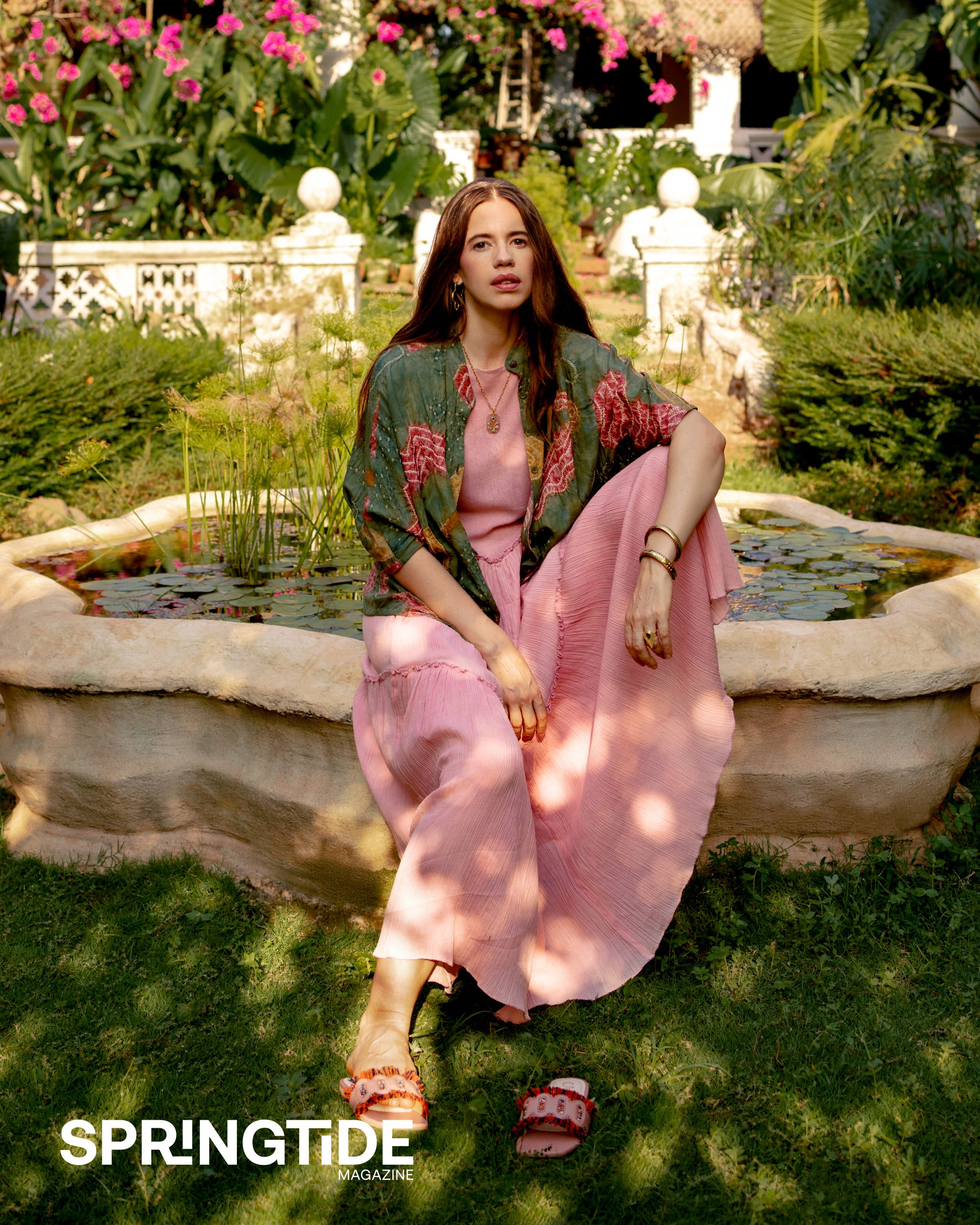 We decided to sit down after the shoot to complete the interview. She comes out dressed in another outfit equally suitable for our editorial, not the one she arrived in. It's from an indie brand that I hadn't seen in the initial collection. To my confusion, she laughs and clarifies, 'It's not part of the shoot, I have a date later,' and she keeps her makeup on that is perfectly blending with her outfit. During the pandemic, she decided to make Goa her home base, where she now lives with her partner and daughter, and travels to Mumbai when work demands it. We briefly discuss the importance of being a flight away from home but 'just' a flight away, allowing us to stay rooted. Over the course of seven hours, Kalki has mentioned so many authors, musicians, and songs that I'm intrigued to know the stepping stones that led her to become the artist she is. 'It was the movie 'Hook' with Julia Roberts that I watched when I was six years old,' she reminisces. "That rebellious, short-haired Tinkerbell made me believe that I, too, could be a fairy, not like the conventional portrayal of fairies I had seen before and couldn't identify with," she sighs. It was the idea that stories have the power to challenge stereotypes that ultimately drove Kalki to become an actor.
Her answer carries so much conviction that I hesitated to ask, but I did inquire if she ever questioned her ambitions due to external influences. 'Of course, I always did and sometimes, still do,' she says. If it wasn't for her teacher named Ms Ruby, who made her believe that pursuing drama was her calling. "I wasn't even aware that there was a 3-year degree specifically for drama. My elder brother has a PhD in astrophysics. It did concern my mother,"she says, laughing. "But going to the university to pursue drama, witnessing Pina Bausch, Peter Brook and many others whom I not only studied about but also watched their work live in London, was inspiring and motivating," she exclaims.
We're almost done, it's 6:30 pm, I have nothing more to ask but worried if I have everything to write a compelling narrative. "Motherhood has taught me patience. It's important to sit and reflect on things we do rather than constantly reaching for the next thing," she answers to how we can stay driven and curious but content. We walk out to the car and she spots a tree of Godhrang, a citrus fruit, near the gate. "Smell it, it's heavenly and tastes the best in lassi," she proudly shares as we wonder if plucking a few from the tree would be illicit or merely noticeable.
Get your copy of Volume II, Issue 002 here.
On the Cover: Kalki Koechlin
Photographer: Gorkey Patwal
Stylist: Ojas Kolvankar
Make-up and Hair: Rooma Talukdar
DOP/Editor: Karan Vaidya
Styling Assistant: Nahid Nawaaz
Artist's Publicist Straight Talk Communications
Editor: Mitali Joshi
Art Directors: Shreya Jain, Muskaan Jain
Editorial Assistant: Neeharika Nene
Junior Writer: Sayali Korgaonkar
Location: Palácio do Deão, Goa