The last two years have surprised us in numerous ways. This year, in the entertainment and fashion industry, it's the first-ever metaverse fashion show that has grabbed everyone's attention. The Metaverse Fashion Week took place in the virtual world of Decentraland from the 24th to the 27th of March.
Well-known brands came forward to explore and contribute to this virtual mega event. Although prominent players like Gucci and Ralph Lauren were absent, the hype around the event was still justified. Brands like Tommy Hilfiger, Dolce & Gabbana, Etro, DKNY, and Estee Lauder showed full participation.
The head of Metaverse Fashion Week, Giovanna Graziosi Casimiro says "It is just the beginning. We need to take one step at a time,".
Unlike in the real world, this fashion experience was open to everyone. Decentraland proudly claims, "everyone's a VIP in the metaverse". As a part of the event, one could purchase NFTs from famous brands using the platform's native coin, MANA.
Event Highlights
Dolce & Gabbana presented cat themes designs with models walking down the virtual ramp. Based on Estee Lauder's Advanced Night Repair solution, an NFT wearable was also showcased. Tommy Hilfiger presented its spring 2022 collection virtually. Hilfiger put forth his aspirational aim to give out the real-world experience and set up a digital store.
Much like in real life, the world-famous humanoid robot, Sofia was a star at Fashion Week. Selfridges partnered with Fondation Vasarely and Paco Rabanne to open a virtual shop in Decentraland.  An avatar version of singer-songwriter Grimes, put the show to an end.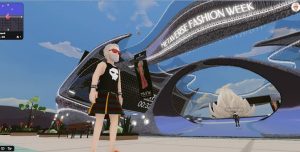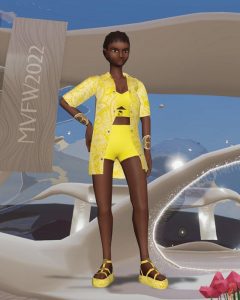 Decentraland Issues
As the first Metaverse fashion event, MFW was bound to have a mixed reaction.
Technical glitches and low-level graphics are some of the main issues. The process of joining events on Decentraland can sometimes be slow and hectic. There are complaints of music not playing after arrival, or multiple audios playing at once. At times people might not be able to hear the audio at all. Organisers gave out feedback stating that everyday wifi and computers may not be as powerful to bring out the high-fidelity experiences. Jason Rosenstein, CEO of NFT auction house Portion shares "They put us back 25 years in terms of resolution". The texture of digital fashion items is also compromised. Designers with high-fidelity 3D versions often have to dramatically simplify the aesthetics to translate into Decentraland, comments Rosenstein.
Even in Decentraland, evaluating popularity has become an issue. To avoid overcrowding, avatars are dropped in different spaces. Designer Phillipp Plein shared his experience and said, "When I logged into my own party it was empty, but the other one was packed". These experiences stand contrary to the very notion of Decentraland. "At times, Dentraland can feel lonely," says Max Vedel, co-founder and creative director at Swipe.