Taylor Swift – or at least her songs reverberating from the television set mounted in front of over 500 overzealous Swifties – wowed her ardent fans into screaming, crying amid the perfect storm of the crowd in a club in the heart of Mumbai recently.
Had it been a live performance, it would have been what is now a trademark Swift concert. With rain pelting the outside and drenched Swifties not daring to skip a beat as their favourite artist would play the guitar, dance around the stage and belt out the vocals of her most famous tracks, the experience would've been unparalleled.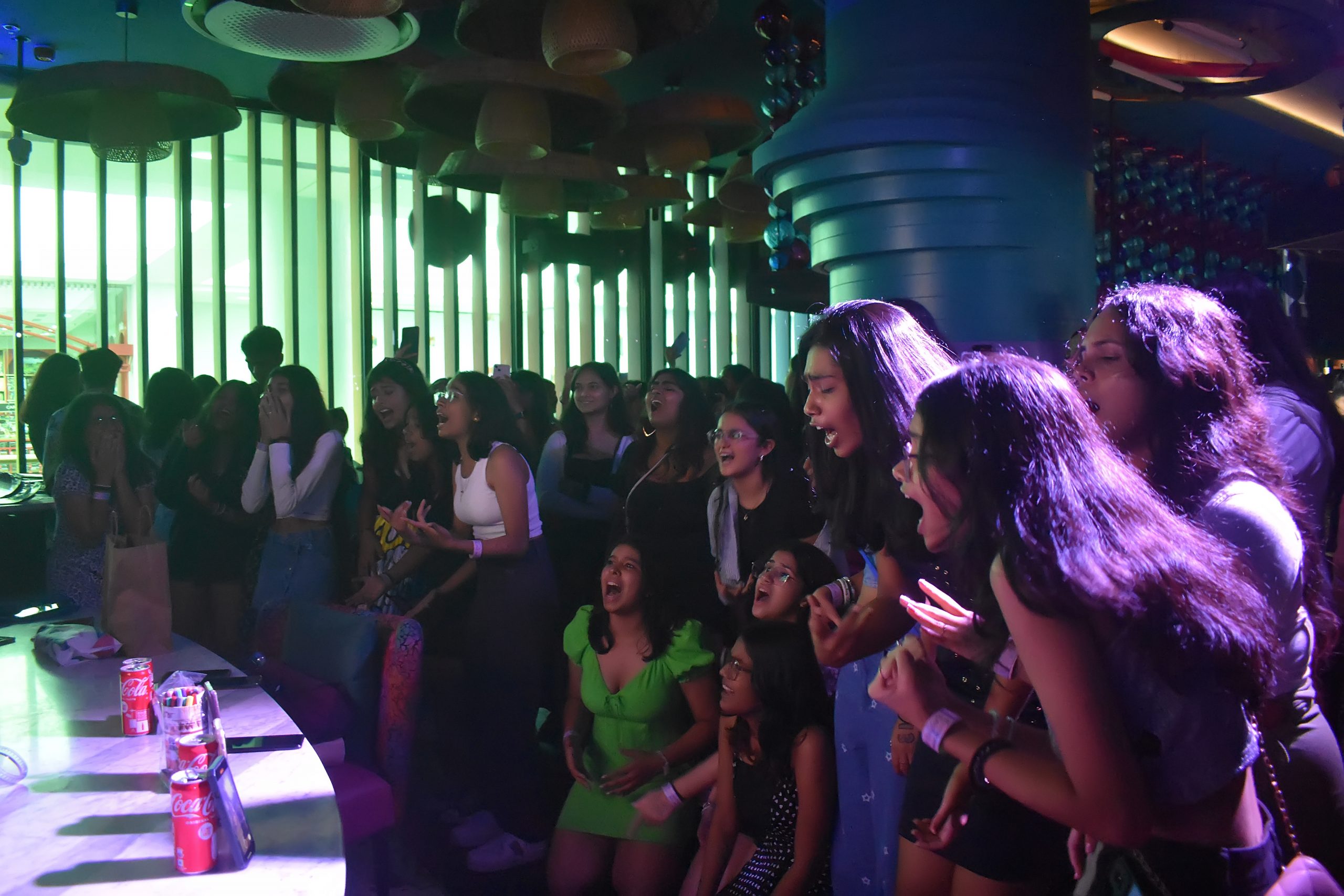 However, the mini-concert organised by the fans, for the fans was a contrast only in the setting. The lighting of the space, was shade-tad dark, with seats rearranged all around to allow the Swifties a physical space to coalesce in make-believe Taylortopia. The left wall of the entrance leading to the club was decorated with multiple-hued dummy vinyl records. The aesthetics, while minimal, had the vibrant approach that any Swiftie would immediately appreciate.
As we entered inside, the chaos that reigned was not one you would want to escape, but rather be an active participant. There stood her most impassioned fans, dressed in what they thought was the closest resemblance to their favourite artist's style. Bracelets spelling love, friendships and many, many names from Taylor's albums wrapped the forearms of the eclectic crowd, many of whom had travelled for over 2 to 3 hours to be in the same room as other Swifties.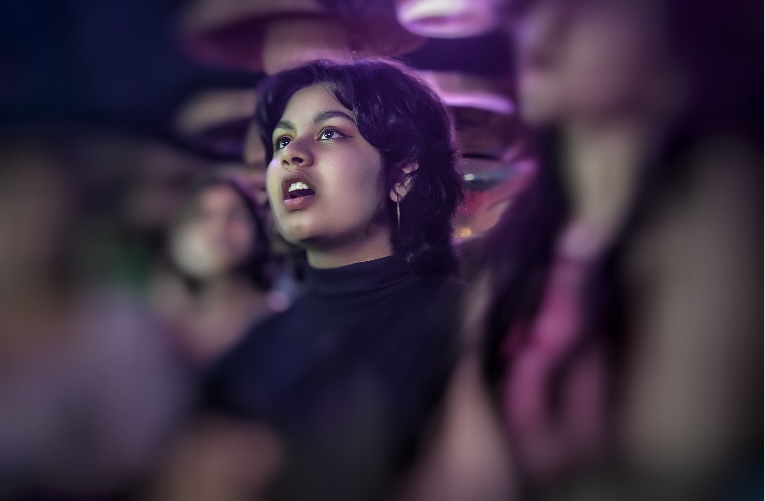 While there was no place for Taylor-style stadium aesthetics, her in-person stage banters, innumerable outfit changes, or rain-clad Taylor being surprised as her instrument starts on their own, the coalesced-in-the-club Swifties – with their eyes set on the television – didn't seem to mind singing along vociferously as their favourite artist crooned: 'I like shiny things, but I'd marry you with paper rings'. 
The physical distance between them and their favourite artist didn't matter as long as they could belt out word-by-word lyrics in complete sync with TV Taylor. This, her fans, between the age group of 14 to 25, said was the closest they could pretend as if they were attending her concert live, currently in progression in the United States.
"We couldn't be there, and we didn't want to miss any bit of the experience the digital Taylor's Eras Tour could provide. So we are here, with so many of her other fans, having the time of our lives," said Aakash, 15, and Simran, 18, before quickly jumping off to be nearer the TV set to join Taylor in singing 'It's me, hi, I'm the problem, it's me' from her track Anti-Hero. Their expressions as they were hollering were so stage Taylor-like that made me question what is it about this artist that invokes such a culture of fandom across borders.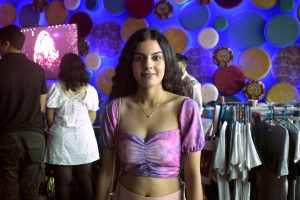 Fan culture is not an alien concept. It is an act of solidarity in celebrating their favourite artist. It is a testament to the profound impact that art and artists can have on our lives. Why any artist resonates with their audiences can be dissected on a case-by-case basis. For the crowd attending the mini-concert on a rainy Saturday evening, the fandom was a result of years of master storytelling that Taylor weaves into her songs. Her experiences, emotions, and observations in a captivating tapestry of words resonate with her listeners on a deeply personal level. Her lyrics are a nostalgic mix of vulnerability, authenticity, and relatability that creates an instant connection with fans from all walks of life. She, at the risk of sounding cliché, writes from her heart and simultaneously understands the hearts of thousands around her. Her fandom respects, no, reveres, that. And perhaps it is this very relatability that will continue to keep the fan culture around her artistry alive.
Sejal, 14, said her favourite Taylor Swift song was from Cardigan because of the particular line: 'You drew stars around my scars'. That a 14-year-old could relate to a line that is part whimsical, part optimistic, made me much clearer to me – Taylor Swift knows love and heartache, and these two emotions have no age limit for relatability.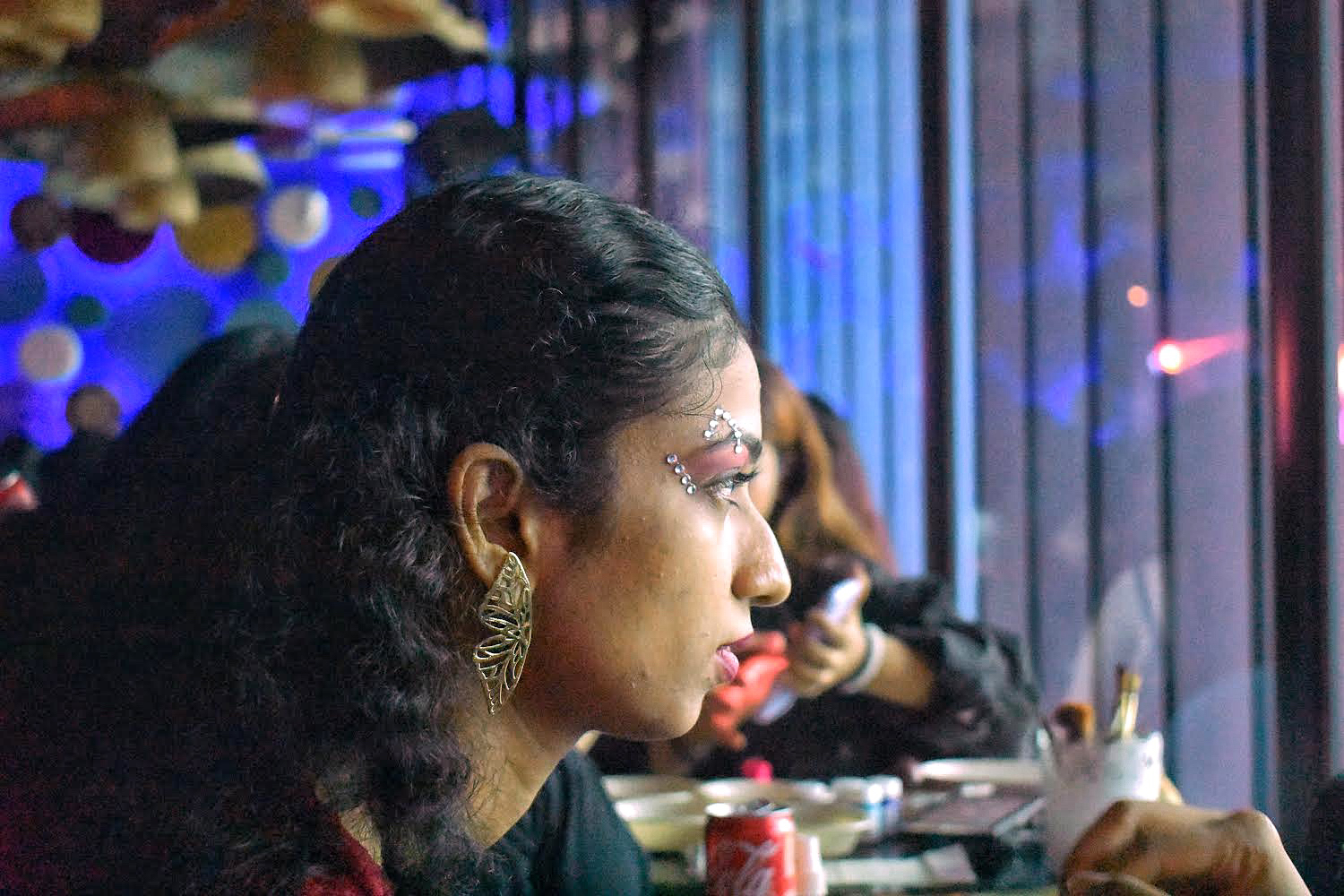 Taylor Swift is an artist that invokes passion that goes beyond her albums. Every move she makes, every headline she is part of, becomes an integral part of pop culture across borders. Even the algorithm loves Taylor Swift, as writer Adrian Horton describes.
The artist's world tour set to start next year does not include India as a destination. The exclusion has definitely disappointed her fans.
"In song seven from her album folklore, she has actually mentioned she wants to move to India forever. And yet, she didn't include India in her international tour destinations. I can't hate her ever for anything, but as her biggest fan, this really bums me out," said Sharoni, 18.
Ashmeet Singh Saluja, 19, has been organising the event since December. Anna, 22, has been co-organising the event since May. "It was actually a meme that made me contact him. There was this viral reel making rounds of local concerts in Mumbai where elderly ladies in their 70s or 80s were jumping and dancing. Ashmeet had posted that reel with the caption, 'Us in 2080 when Taylor Swift comes to India'. I immediately got in touch with him and told him I'll just be a volunteer for the event. Even I don't know how I became a co-manager," said Anna.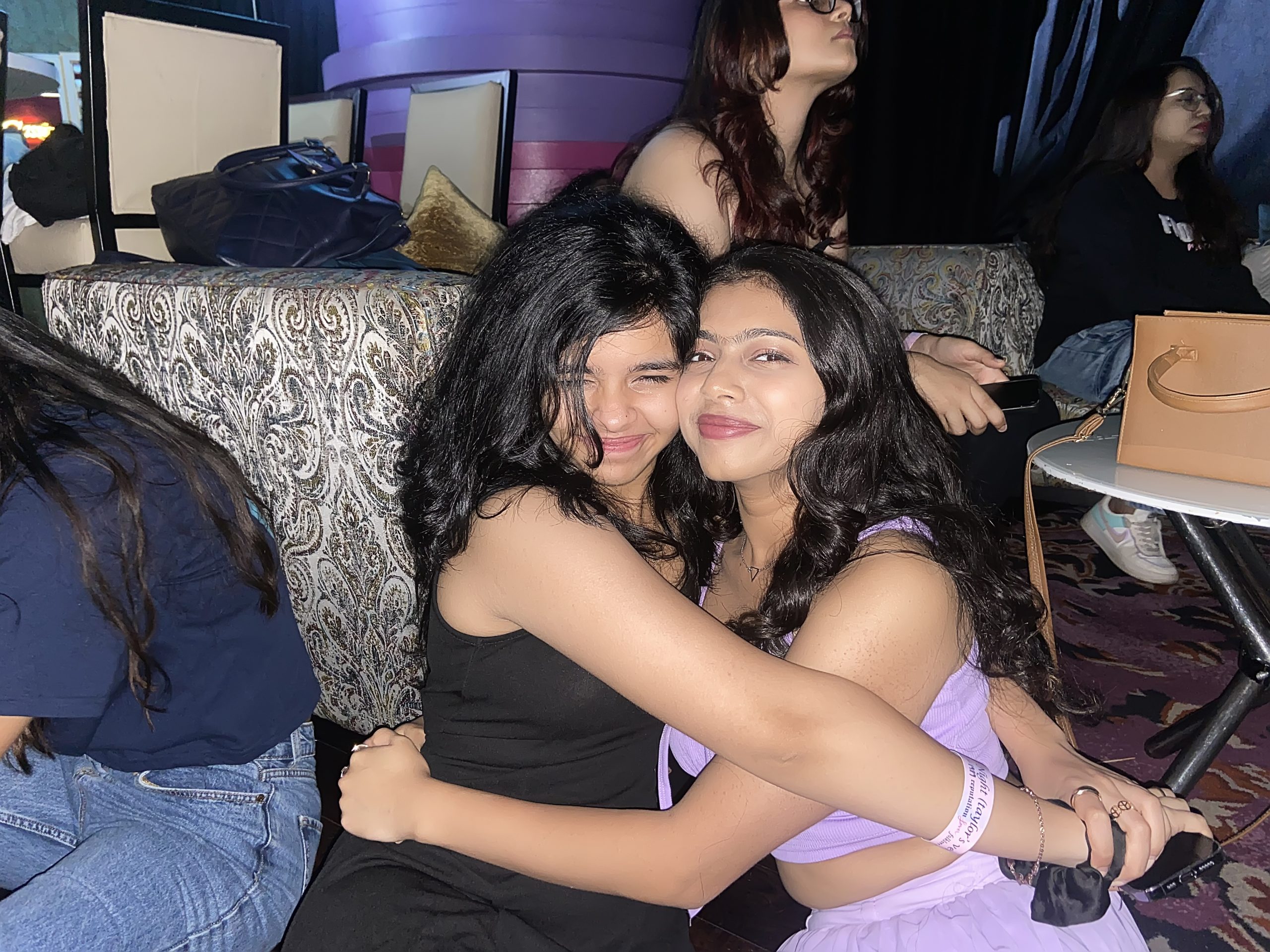 Ashmeet, an ardent Swiftie himself, said he decided to organise such events because he himself wanted to just go to a club and scream Taylor Swift's songs. "This was not happening anywhere. We started thinking it would be just something fun, but the popularity of this event is now beyond our comprehension."
Ashmeet and Anna so far have organised six such events together, one of which was held in Delhi and the other in Indore. Together, unbeknownst to them, are contributing to the revival of fan culture and bringing it outside of the bedrooms of the fans.
Both Ashmeet and Anna are set to visit the live concert in March next year in Singapore.
"Over the course of organising these events, we realised people just want to be in a room with other like-minded individuals who love their favourite artist as much as they do and sing and dance with them. Taylor Swift is more than her songs; she is an emotion for all the Swifties," Ashmeet said.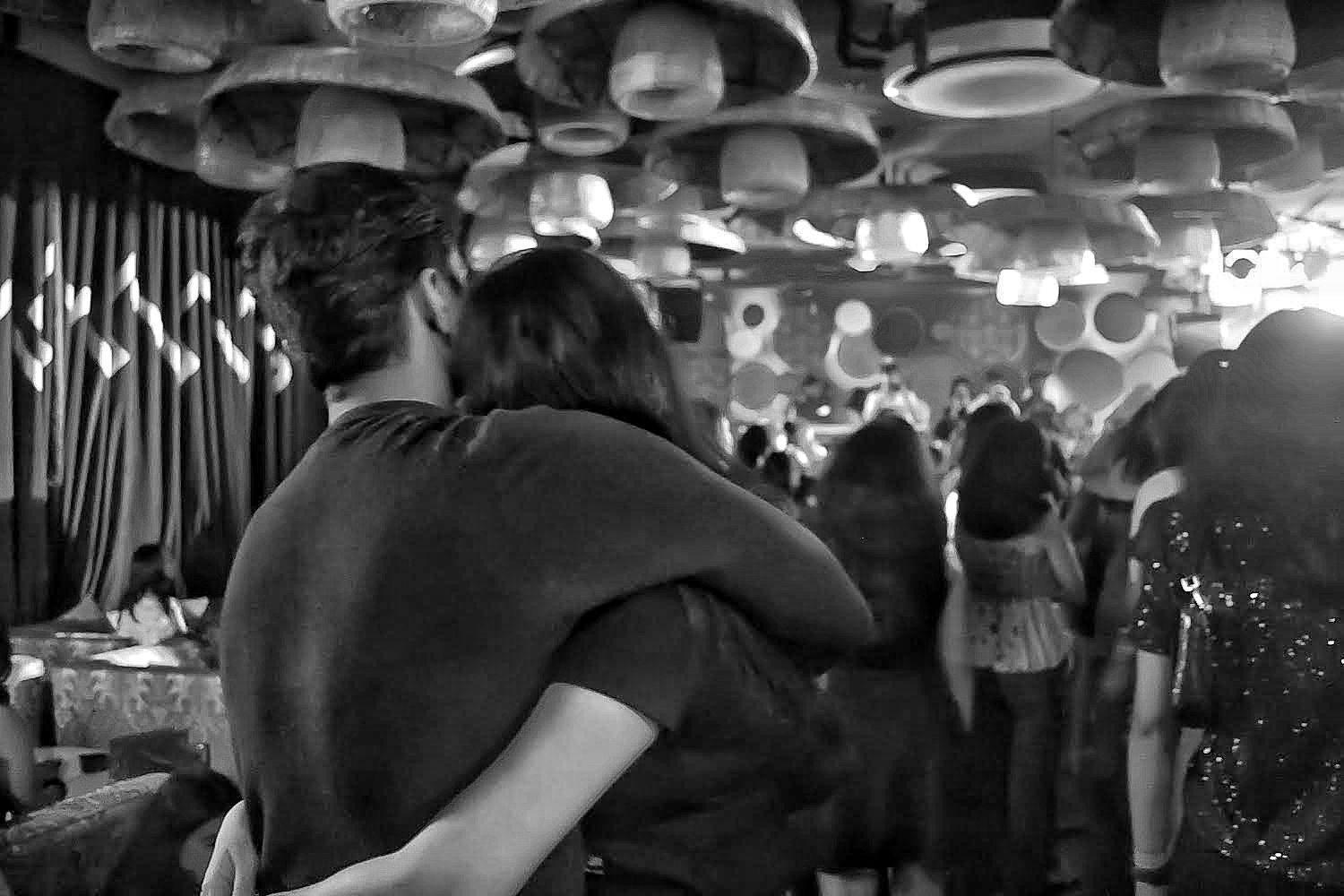 The fans-organised event ended with one final song – the universal favourite Shake It Off. The fans took it upon themselves to teach others around them the original choreography of the song – not that many needed teaching. As the song ended, old and new friends hugged each other and took videos and selfies for a lasting memory. They yapped about as they exited the venue, perhaps collectively manifesting that Taylor Swift's magical world comes to India soon.